Arizona Visitors Guide: attractions, plages to go, things to do in Arizona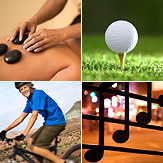 With its superb year-round climate and stunning scenery - from the Grand Canyon to the Lower Sonoran Desert - Arizona is a state of almost incalculable beauty and variety. It offers something for everyone as a wonderful holiday destination. The hot desert regions of the south - the landscapes celebrated in western films - form the popular image of Arizona yet much of the northern and eastern parts of the state have extensive forests, vast mountain ranges, clear cool lakes and rushing mountain streams - a veritable paradise for visitors.

Adventures, Golf Courses, Events, Places to visit & more...